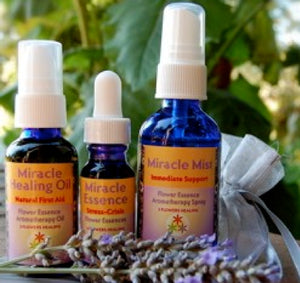 3 Miracle Products
Great gift for all occasions: Baby Shower, Injury or Illness Healing, First Aid, New Parents, stress relief.
Three favorites at 3 Flowers Healing for soothing injuries, trauma, sunburn, emotional tension, rashes, illness, and children too. Miracle Healing Oil and Miracle products offer strong healing medicine with the nurturing, supportive qualities of flowers. Anti-bacterial, anti-inflammatory, analgesic.


Miracle Healing Oil-natural first aid


Miracle Mist-immediate support spray


Miracle Essence-the emotional rescue remedy for the Northwest


"People can't believe how well it works to reduce pain & swelling!"
"At our pre-school, when the kids get a boo-boo, they don't ask for a band-aid they ask for the Miracle Oil."