Flower Essence Formulas of 

Lilies of The Gorge, Beautiful, Divine Mothering
Blossom into full womanhood with flower essences. Resonate with the beauty and receptivity of divine feminine love and compassion as you take these delightful flower essences. Balance your cycles, your emotions, and your mental outlook. Raise your energy to greater levels of joy and light as you blossom into your true feminine nature. By addressing emotional blocks, beliefs, and your spiritual awareness, 3 Formulas for Women may balance your physical body's cycles—PMS, menstruation, menopause, and pregnancy—and clear blocks and congestion in the reproductive or other places in the body.


Issues: CORE WOMEN'S EMOTIONAL SPIRITUAL CREATIVE ISSUES


Ingredients: Water infusion of wildflowers preserved in brandy.  This kit includes of 3 flower essence formulas of Lilies of the Gorge, Beautiful and Divine Mothering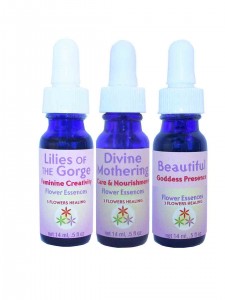 [gallery]