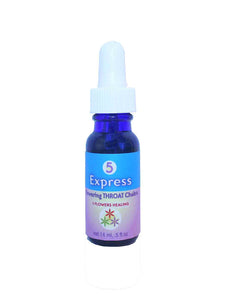 Express
Express you truth and wisdom by opening and balancing your throat chakra. Free your Soul's longing for creative expression by bringing your desires into form—manifest. Leadership.


Issues: COMMUNICATION, SOUND, TRUTH, MANIFESTING, WISDOM, RESPONSIBILITY, SELF PROTECTION, SAY YES/NO, THYROID


Ingredients: Flower Essences Larkspur, Pungent Desert Parsley, Bachelor Buttons, Large-flowered Collomia, Oregon Oak, Oregon Grape in water/brandy.