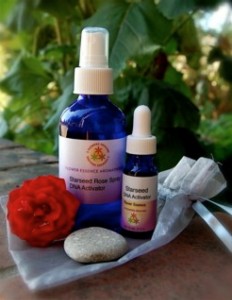 --
Starseed: DNA Activation Spray with Rose Absolute Oil
Red Rose Absolute Essential Oil-Exquisite fragrant red Rose oil for heart-opening delight and physical integration. High frequencies of love.
Ingredients: Formula: Moss, Fairy Slipper, Moldavite, Sweetgrass, Lotus, Mugwort essences in water/brandy (or glycerin upon request), spray, grounding rock.
Issues: DNA RENEWAL CENTERING CALMING INTUITION ANCESTOR HEALING ABUNDANCE ASCENSION ABILITY TO RECEIVE LIGHT DISEASE HEALING PROCESS
Flower Essence Formula, Spray, & Grounding Rock
Open up your cells to receiving more love, light, and joy. Activate the healing of the strands of your DNA and your intuition, spiritual gifts, anf purpose. DNA healing is healing at our source... with Source. Bring all energy back to your Center. Starseed DNA Activator will raise your vibration to higher frequencies of light allowing denser energies and diseases to dissolve. Make Offerings--activate the waters and sacred sites on Mother Earth with the drops and spray as well. See instructions-Link.
Testimonials:



"I feel like I don't have fingerprints anymore. Like I am one with ALL and my plants in my Medicine Wheel Garden are going off! (I gave them drops of Starseed, too.)" Jodi


"I felt like my body aligned with my spirit--an active awakening to the gift of now! Jesse


"My fingertips feel like there are tiny lightning bolts of energy coming out of them." Marshall